Unleash the Beast! This 20-foot elastic battle rope adds a new dimension to your conventional battle rope exercises. Use it as a resistance band to do full-body exercises including sprints, jumps, presses and rows that traditional battle ropes cannot do.
Product Details
| | |
| --- | --- |
| Weight | N/A |
| Dimensions | N/A |
| Resistance | 47, 77, 105, 150 |
| Color | Orange, Black |
Shipping and Returns
We offer free shipping on orders over $100. Learn more
Our metal products are made to order and have an average lead time of 7-10 days.
Lead time for our "soft goods", such as our resistance bands, accessories, and most attachments, have a lead time of about 3 days.
Returns are available within 30 days of the date of purchase. Learn more
Warranty
All metal fabricated products, such as our anchoring systems and plyo boxes, carry a 5-year frame warranty and a 1-year wear and tear part warranty.
Stroops "soft goods" carry a 6-month commercial warranty and a 1-year home use warranty.
The rope that fights back.
Say goodbye to convention hemp and nylon battle ropes. Using Stroops' innovative safety sleeve elastic technology, the Beast enables you to go beyond what you can do with your old battle rope, from rope slams to resistance exercises, building strength, speed, and power. You won't have to deal with hauling around heavy, awkward ropes as you can get between 15 to 150 pounds of resistance in just a single, portable, 7-pound band. We've designed the Beast with handle straps on each end, so you won't have to worry about losing grip of your rope mid-session.
The Beast comes in four resistance levels built to suit your own weight and fitness level, starting at 47 pounds (great for most users) and going up to 150 pounds (for the pros). Get it in black or orange.
With the Beast, your full-body workout will be fun, intense, and next-level. The Beast is the rope that fights back!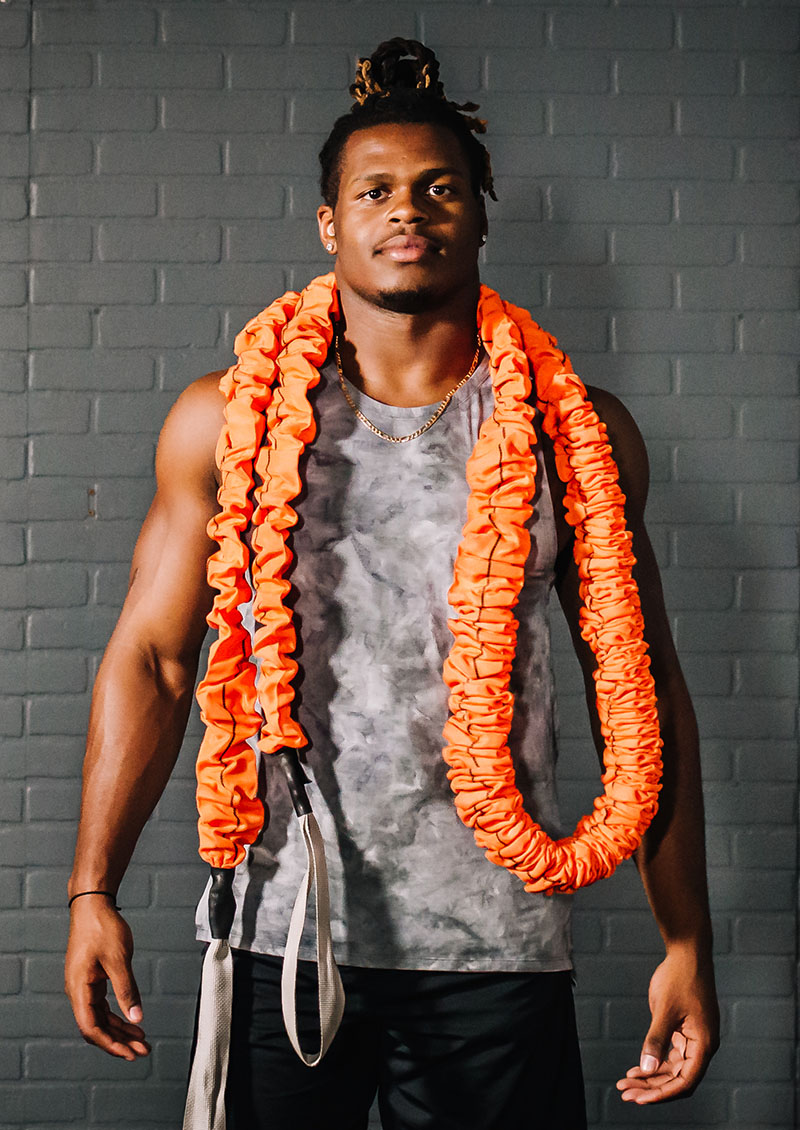 The Beast, along with our Son of the Beast kit, comes in four resistance levels. These levels are recommended differently based on your own weight and fitness level. Choose the rope that will challenge you without being more than your body can work with.
The weight of your band determines the color of your handle.
Please use the chart below to determine which band we recommend you purchase based on your training level and weight.
| | Under 130 lbs | 130-150 lbs | 150-175 lbs | 175-200 lbs | Over 200 lbs |
| --- | --- | --- | --- | --- | --- |
| Low Fitness Level | 47 | 47 | 47/77 | 47/77 | 77 |
| Medium Fitness Level | 47/77 | 47/77 | 47/77 | 77/105 | 77/105 |
| High Fitness Level | 77 | 77/105 | 77/105 | 77/105 | 105/150 |
| High Level Athlete | 77/105 | 77/105 | 105/150 | 105/150 | 105/150 |
Disclaimer: This table should only be used as a reference. If you are on the fence between two weights, we recommend you choose the lighter of the two.
47 pounds—Silver—If you're just starting out your fitness journey, our 47-pound rope will extend the standard 60 feet and give you a solid amount of resistance to build your core and work your muscle endurance. This band is recommended for light to moderate weight persons or those who are getting started.
77 pounds—Black—Our 77-pound rope will turn up the heat on your workout and help you get in better shape. This is the go-to for the intermediate-level fitness users and suits various people depending on your size and weight. We recommend this resistance for most body types and experience levels beyond beginners and short of professionals or athletes.
105 pounds—Tan—The 105-pound rope is built for experienced athletes. This rope will challenge you at every level. We recommend this resistance for large body types or highly experienced users.
150 pounds—Orange—Our strongest rope is built to challenge pro athletes at the highest level. This band is not recommended for smaller body types due to the heavy weight it counters you with.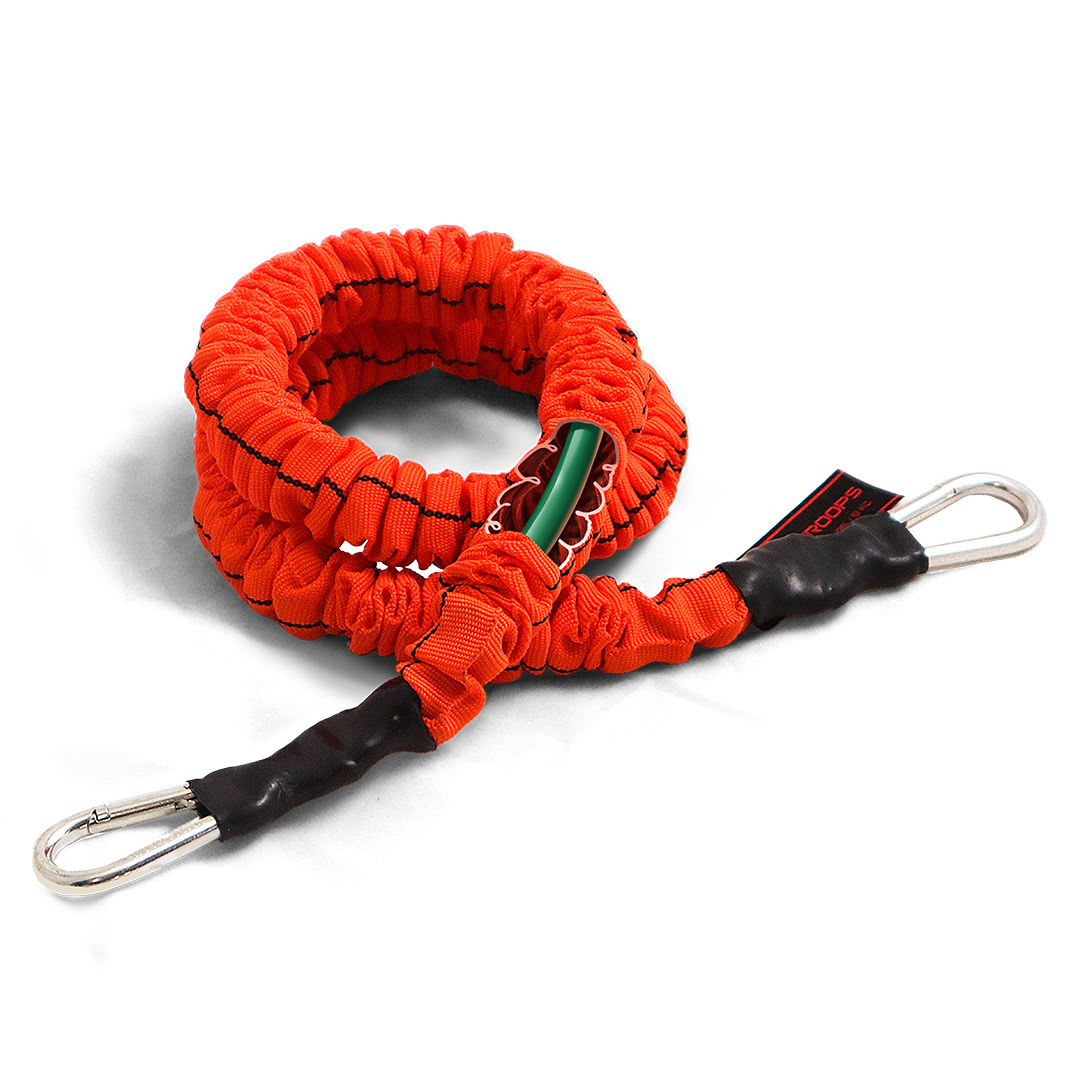 Safety-sleeved is the future.
Stroops has changed the game in battle ropes with its innovative safety sleeve elastic band technology—Slastix.
Slastix resistance bands are designed to get away from "naked tubing"—bands that are left unprotected from external damage and hyper-extension. These can be dangerous as bands break mid-session and put you in harm's way when they snap back at you.
In addition, many competitor products are treated as consumables, as users grow accustomed to the band wearing down and breaking.
Slastix resistance bands are designed to optimize safety and durability. The safety sleeve around your band prevents it from snapping back at you in the event of a breakage. The sleeve also stretches just enough to maximize the resistance level of your band without maxing out its elasticity and weakening or snapping it.
The safety sleeve also protects your band from outer damage. Battle rope exercises like slams and waves cause a lot of impact on the band, and with naked tubing, that leaves it susceptible to cuts, tears, and other kinds of abrasions which will quickly shorten its life. Those same exercises will also cause fraying and aesthetic damage to conventional battle ropes.
With a conventional battle rope made of hemp or nylon, you're limited in your exercise routine to just waves and rope slams. With the Beast, you can go beyond the traditional exercises, using your battle rope for resistance training as well, even doing sprints, jumps, rows, and presses.
Because of its 20-foot length, the Beast is best used in wide workout spaces, but this lightweight band is still a great solution for outdoor exercise and with a partner. You'll want a strong anchor with the amount of resistance you'll get from it during a session. As you get stronger and more experienced with the Beast, you can easily progress your repetitions simply by extending the band for higher resistance.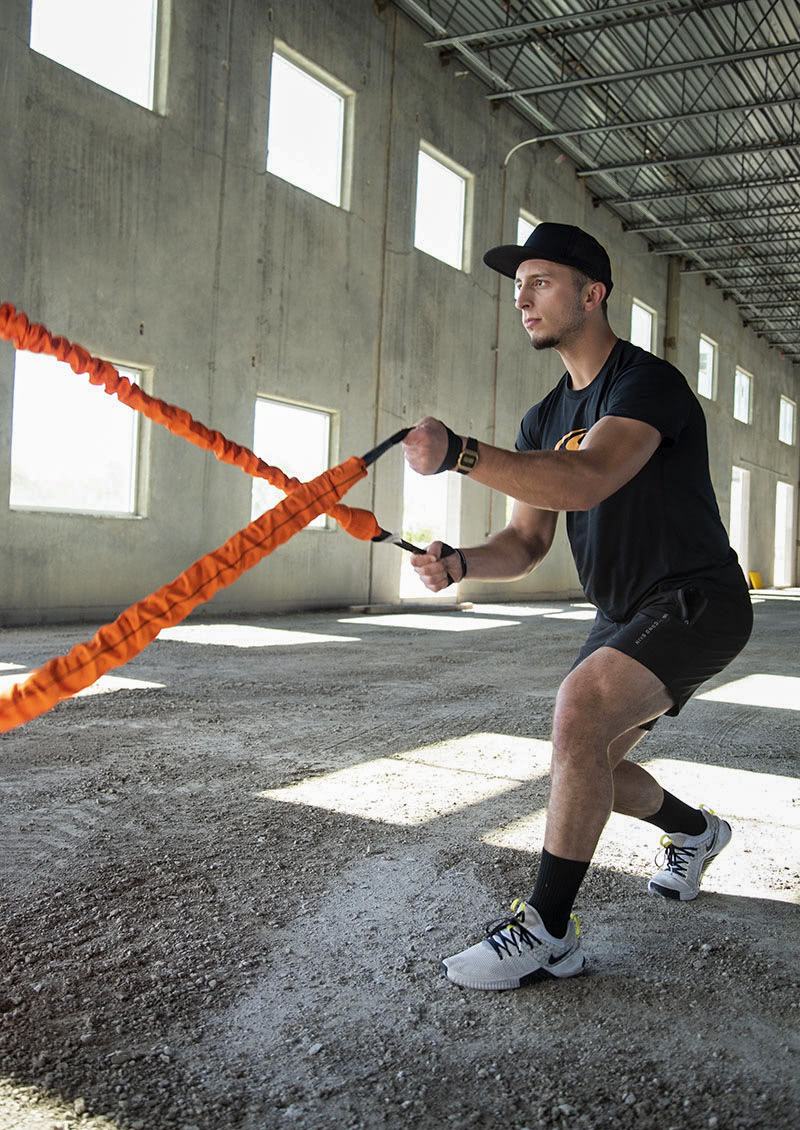 Looking for training ideas?
Our free Training Room will guide you on your fitness journey with hundreds of videos, from specific exercises to full workouts, led by professional Stroops personal trainers.