Intensify your workout with the Son of the Beast, a sleeved elastic battle rope large enough for conventional battle rope exercises like waves and slams and agility training. Use it also for resistance exercises for muscle building and endurance. This is your entire workout in one kit.
Product Details
| | |
| --- | --- |
| Weight | 7 lbs |
| Dimensions | 18 × 18 × 4 in |
| Package | Original, Pro |
| Resistance | Light – 15 lbs, Medium – 20 lbs, Heavy – 25 lbs, Very Heavy – 30 lbs, 47, 77, 105, 150 |
| Color | Orange, Black |
Shipping and Returns
We offer free shipping on orders over $100. Learn more
Our metal products are made to order and have an average lead time of 7-10 days.
Lead time for our "soft goods", such as our resistance bands, accessories, and most attachments, have a lead time of about 3 days.
Returns are available within 30 days of the date of purchase. Learn more
Warranty
All metal fabricated products, such as our anchoring systems and plyo boxes, carry a 5-year frame warranty and a 1-year wear and tear part warranty.
Stroops "soft goods" carry a 6-month commercial warranty and a 1-year home use warranty.
The rope that fights back.
The Son of the Beast is an all-inclusive workout tool you can easily take on the go. Expounding upon our original 20-foot battle rope, the Beast, the Son of the Beast is a pair of 10-foot elastic battle ropes with the capacity to stretch to 30 feet. Each rope weighs only seven pounds and can stretch to provide resistances ranging from 15 to 150 pounds, depending on your chosen band strength. With the Son of the Beast, you'll be able to diversify your workouts without relying entirely on weights or conventionally-made ropes.
A pair will get you started with two 10-foot sleeved elastic battle ropes of your chosen weight in either black or orange . Our Pro kit will unlock your inner beast with two 10-foot sleeved elastic battle ropes, a Power Pull Belt, two industrial Carabiners, two XL Cloth Anchors, and two Agility Dots.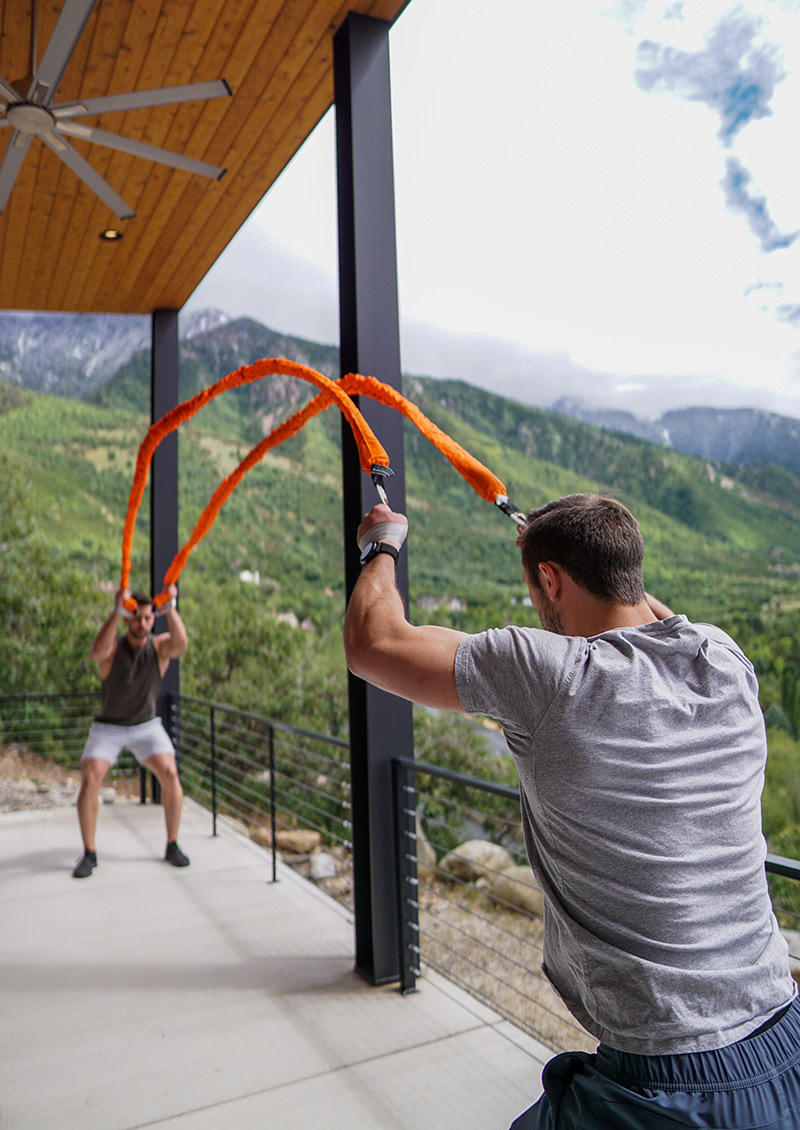 Work out according to your fitness level with our four different resistance options. We designed the handles so the color corresponds to the weight of your band.
Please use the chart below to determine which band we recommend you purchase based on your training level and weight.
| | Under 130 lbs | 130-150 lbs | 150-175 lbs | 175-200 lbs | Over 200 lbs |
| --- | --- | --- | --- | --- | --- |
| Low Fitness Level | 47 | 47 | 47/77 | 47/77 | 77 |
| Medium Fitness Level | 47/77 | 47/77 | 47/77 | 77/105 | 77/105 |
| High Fitness Level | 77 | 77/105 | 77/105 | 77/105 | 105/150 |
| High Level Athlete | 77/105 | 77/105 | 105/150 | 105/150 | 105/150 |
Disclaimer: This table should only be used as a reference. If you are on the fence between two weights, we recommend you choose the lighter of the two.
47 pounds—Silver—If you're just starting out your fitness journey, our 47-pound rope will extend the standard 30 feet and give you a solid amount of resistance to build your core and work your muscle endurance. This band is recommended for light to moderate weight persons or those who are getting started.
77 pounds—Black—Our 77-pound rope will turn up the heat on your workout and help you get in better shape. This is the go-to for the intermediate-level fitness users and suits various people depending on your size and weight. We recommend this resistance for most body types and experience levels beyond beginners and short of professionals or athletes.
105 pounds—Tan—The 105-pound rope is built for experienced athletes. This rope will challenge you at every level. We recommend this resistance for large body types or highly experienced users.
150 pounds—Orange—Unleash the Beast! Our strongest rope is built to challenge pro athletes at the highest level.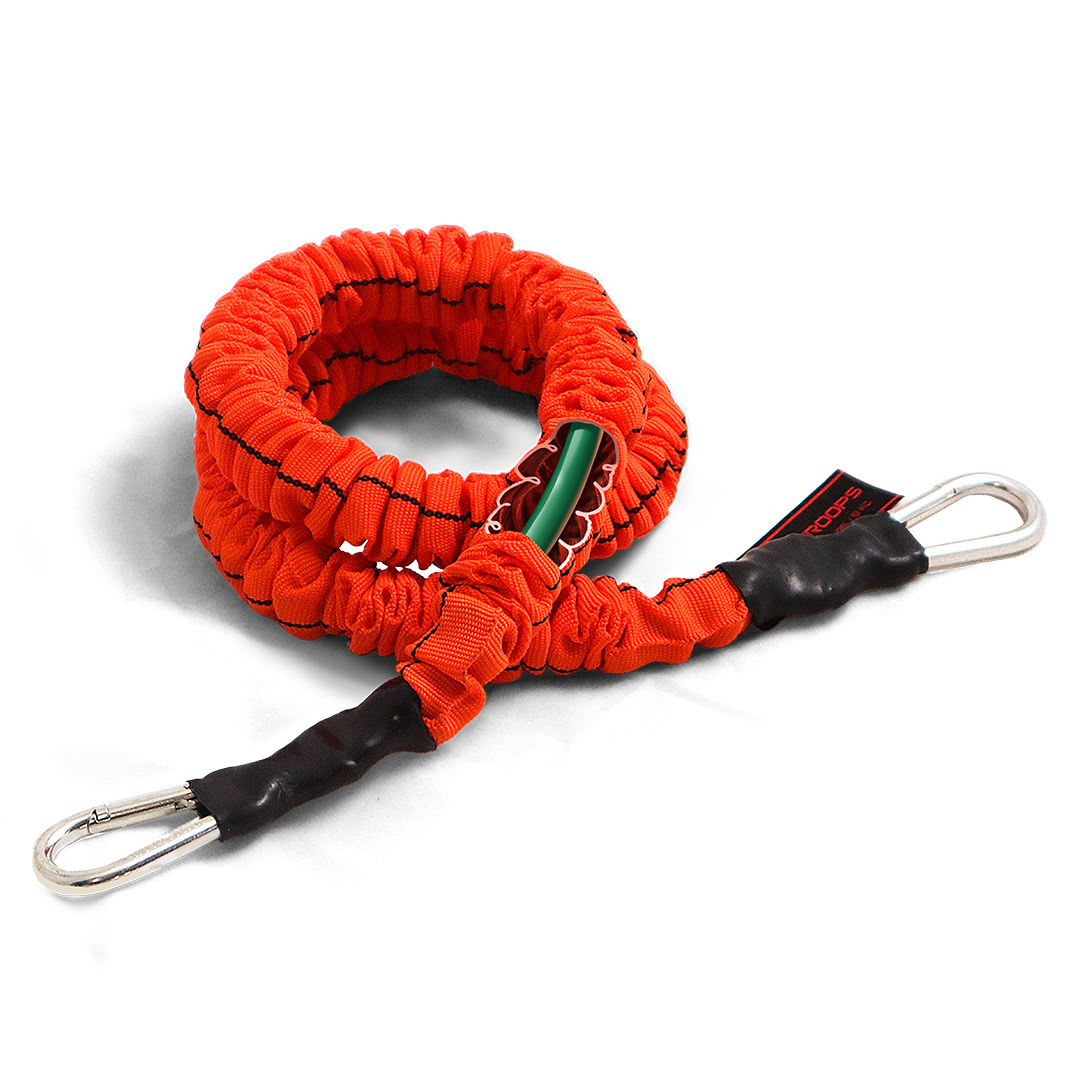 Safety-sleeved is the future.
Stroops' original design for safety sleeve elastic resistance bands solves two issues: accelerated breakdown of resistance bands through continued use, and the inherent danger present when bands break mid-session.
We know you want your battle ropes to fight as hard as you do, and having a band break in the middle of your session could have harmful results. That's why a fabric sleeve covers your resistance band to protect it from snapping back at you if it breaks.
The sleeve also protects against virtually every kind of damage, from over-extension and gradual wear and tear to outdoor exposure and impact damage. Run, jump, and slam all you want, and know that the Son of the Beast will remain as strong and durable as ever.
The Son of the Beast gives you the ability to work out your whole body. The elastic nature of our battle rope unlocks a previously limited ability to progress or regress your intensity when compared with a traditional battle rope.
Whatever you train for, whether to be game-ready or just to improve your everyday health, resistance bands should be a part of your routine. The Son of the Beast keeps your muscles engaged through your motions, so you can even speed up your reps and keep pushing without gravitational forces working away from your body. You'll not only see results, but you'll have fun doing so.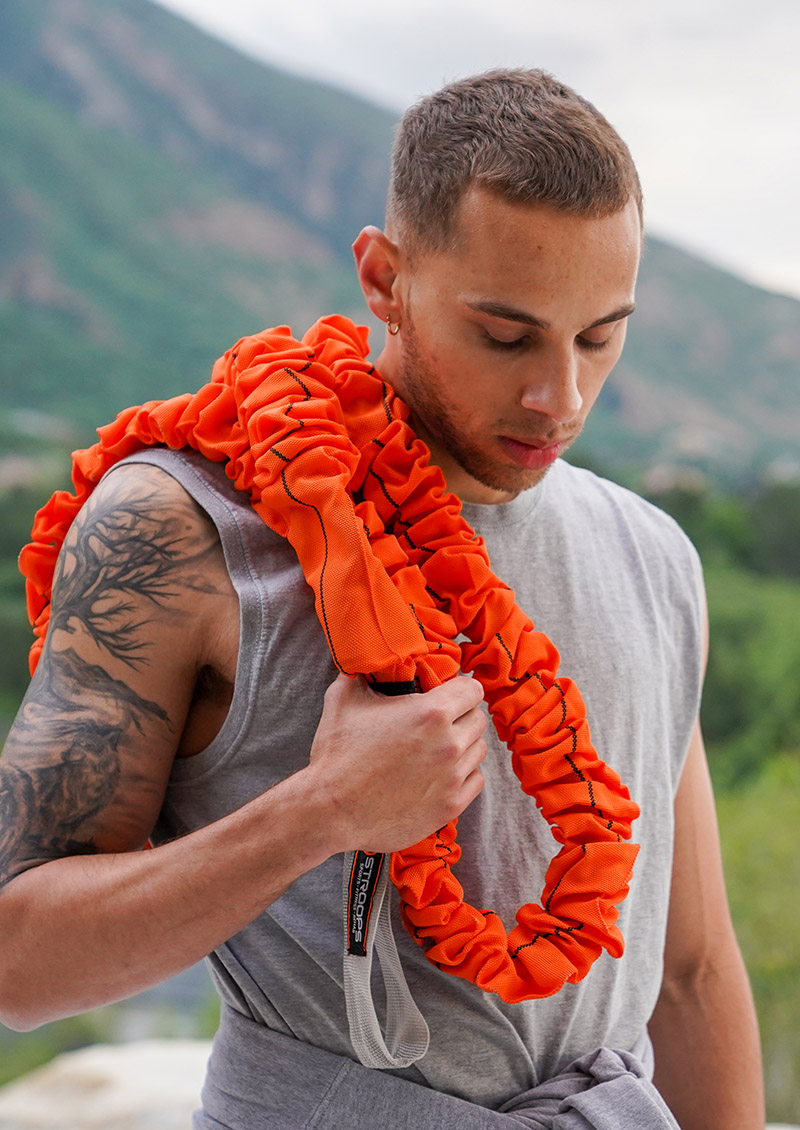 Looking for training ideas?
Our free Training Room will guide you on your fitness journey with hundreds of videos, from specific exercises to full workouts, led by professional Stroops personal trainers.