The Resistance 90 system is your solution for a full-body workout. This dual-band kit utilizes Stroops' patented Slastix technology to create a setup that is customized to challenge every part of your body and optimize your movement.
Need a band only? Click Here
Product Details
| | |
| --- | --- |
| Weight | 4 lbs |
| Dimensions | 24 × 4 × 4 in |
| Resistance | No Band, Light – 15 lbs, Medium – 20 lbs, Heavy – 25 lbs, Very Heavy – 30 lbs |
| Anchor | Door Anchor, Spine Strap |
| Color | Orange, Black |
Shipping and Returns
We offer free shipping on orders over $100. Learn more
Our metal products are made to order and have an average lead time of 7-10 days.
Lead time for our "soft goods", such as our resistance bands, accessories, and most attachments, have a lead time of about 3 days.
Returns are available within 30 days of the date of purchase. Learn more
Warranty
All metal fabricated products, such as our anchoring systems and plyo boxes, carry a 5-year frame warranty and a 1-year wear and tear part warranty.
Stroops "soft goods" carry a 6-month commercial warranty and a 1-year home use warranty.
The best portable workout.
The Resistance 90 portable resistance training system is a lightweight kit that you can take anywhere. You can set this up on any door using the Spine strap or the foam door anchor, and then you can do a full workout or key in on a specific muscle group.
Resistance 90 supplies you with a dual-band Slastix resistance band at your desired weight and color selection, a collapsible arm bar, and your choice of either a foam door anchor or a Spine Strap. The foam door anchor can be secured to any point of your doorframe, or the Spine Strap can be secured to your door and provide immediate access to seven possible anchor points from the top of your door to the bottom.
Resistance 90 adapts Stroops' patented Slastix resistance band technology to create a product that is long-lasting, safe, and attractively designed. Slastix resistance bands are made to protect the tubing from outer abrasions that would otherwise weaken the band and hasten its breakdown. In addition, you'll be kept safe from potential breakages as the safety sleeve restricts the band from wild snapbacks.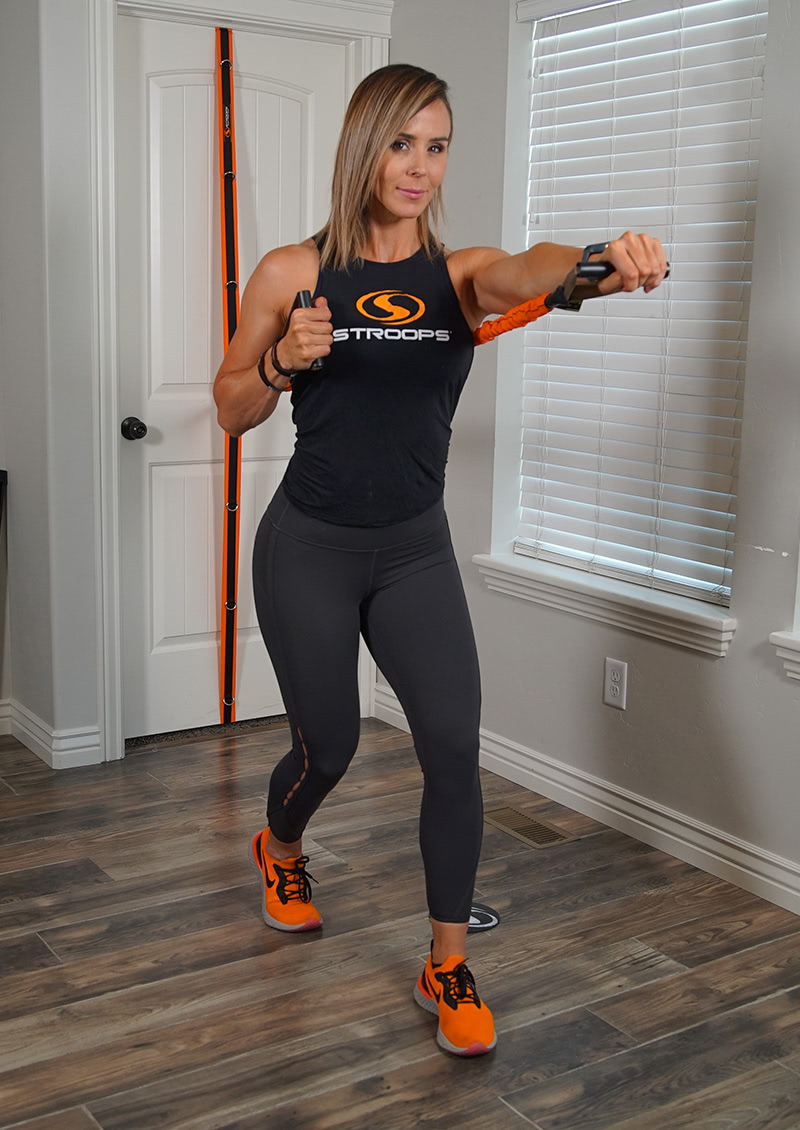 Choose your Resistance 90.
To help you customize your workout to your strength and fitness level, the Resistance 90 is offered in four weight levels—light, medium, heavy, and very heavy. The color of the strap on your handles changes based on your weight preference and the color of the safety sleeve.
If you're looking for further customization options, contact us.
15 Pounds - Light
20 Pounds - Medium
25 Pounds - Heavy
30 Pounds - Very Heavy
15 Pounds - Light
20 Pounds - Medium
25 Pounds - Heavy
30 Pounds - Very Heavy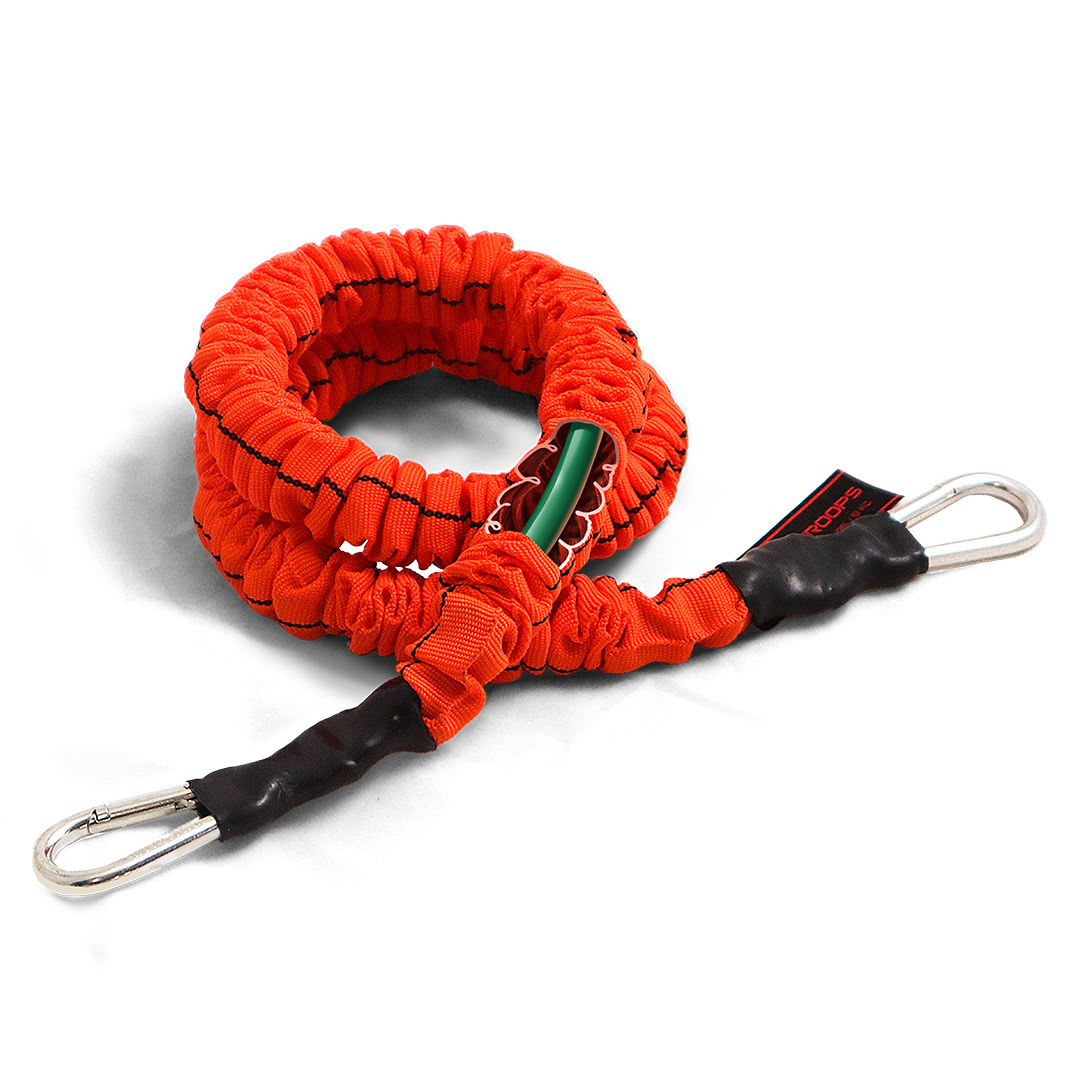 Resistance 90 is the future.
At the core of Stroops is our mission to change the game in the fitness industry around resistance band exercise. Too many people have become used to seeing their resistance bands as a replaceable and often breakable component of their exercise gear, and others know all too well what it's like when a band breaks mid-stretch and becomes an immediate danger to them and others around them. These are symptoms of the conventional design of resistance bands, what we call "naked tubing." It's like driving a car without a seatbelt.
With Slastix resistance bands, we've solved this problem by designing a protective sleeve around the band. The safety sleeve serves a dual purpose to keep cuts, nicks, tears, and other abrasions from damaging and weakening your band, while it also protects you from getting hurt or injured by a broken band snapping back at you. The sleeve also maxes out at a safe length that stops the band from hyper-extension, one of the quickest ways for your band to break.
The Resistance 90 system can be used to work out every part of your body from shoulders to legs. The benefit of Resistance is it can either be taken on the go for freestyle exercise or set up with your Spine Strap or foam door anchor for an at-home workout session.
Using the dual handles on each band helps you isolate your muscles during reps while still exercising both sides of your body equally. For a different use, add the collapsible bar to each handle to enhance stability in your exercise.
Looking for training ideas?
Our free Training Room will guide you on your fitness journey with hundreds of videos, from specific exercises to full workouts, led by professional Stroops personal trainers.