The Resistance 90 Band is the core piece of our Resistance 90 system, optimized by Slastix resistance band technology for safety and durability. Use it with an accessory you've already purchased, or use it freestyle to work out anywhere, anytime.
Need an anchor with your band? Click Here
Product Details
| | |
| --- | --- |
| Weight | 0.55 lbs |
| Dimensions | 10 × 7 × 2 in |
| Resistance | No Band, Very Light – 10 lbs, Light – 15 lbs, Medium – 20 lbs, Heavy – 25 lbs, Very Heavy – 30 lbs |
| Color | Orange, Black |
Shipping and Returns
We offer free shipping on orders over $100. Learn more
Our metal products are made to order and have an average lead time of 7-10 days.
Lead time for our "soft goods", such as our resistance bands, accessories, and most attachments, have a lead time of about 3 days.
Returns are available within 30 days of the date of purchase. Learn more
Warranty
All metal fabricated products, such as our anchoring systems and plyo boxes, carry a 5-year frame warranty and a 1-year wear and tear part warranty.
Stroops "soft goods" carry a 6-month commercial warranty and a 1-year home use warranty.
The Resistance 90 Band is sold separately or as part of the full Resistance 90 portable training system. The Band is made using Stroops' patented safety sleeve elastic technology, known as Slastix resistance bands. Use this band with our Spine Strap, or a foam door anchor, or with any other anchoring accessory you've already purchased. Alternatively, use it freestyle (without an anchor) for a workout you can do anywhere, anytime.
The Resistance 90 Band's dual band design has handles on both ends connected by a clip you can hook in anywhere. It comes in our five primary weights, ranging from Very Light (10 pounds) to Very Heavy (30 pounds). With Resistance 90, get a full-body workout wherever you want.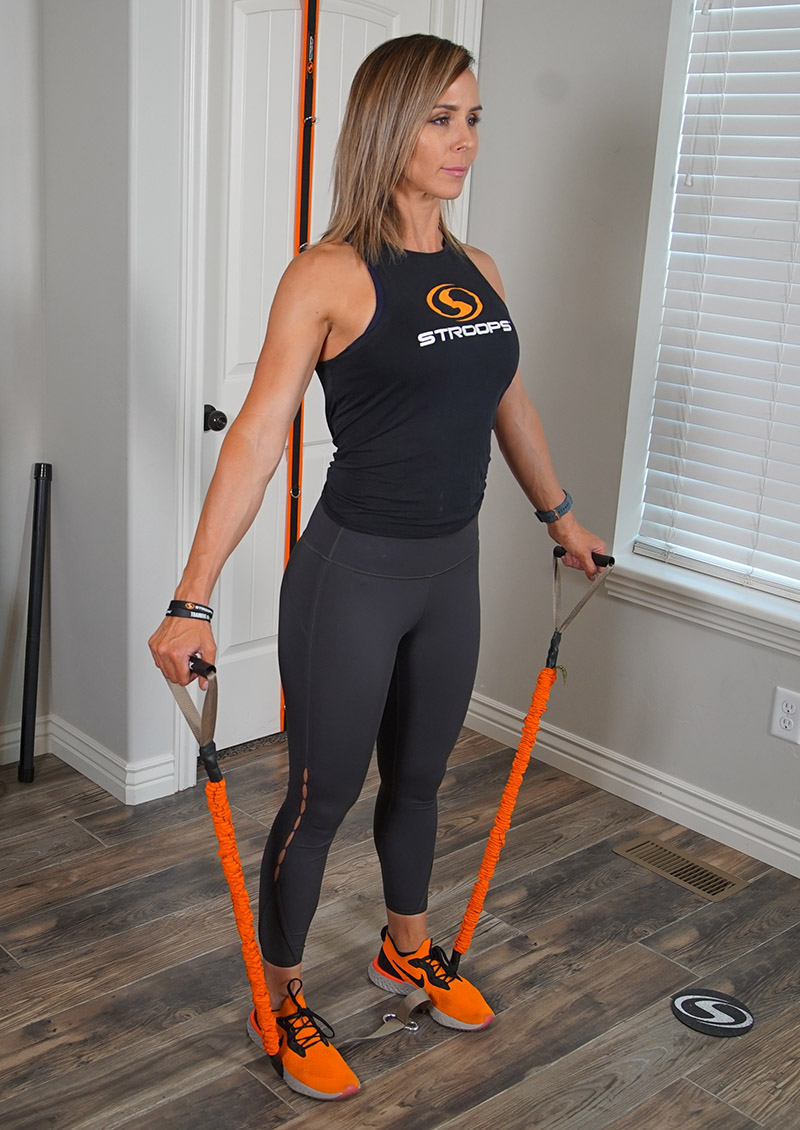 Choose your Resistance 90.
The Resistance 90 Band ranges from Very Light to Very Heavy (10-30 pounds). We offer five resistance levels flexible with your preferred intensity so you can get a good workout regardless of your fitness level. With our five main weight options, the color of the handle straps is designated by the weight and color of the band.
Stroops is committed to producing a band that will suit your needs. If you are looking for an even stronger band or further customization options, contact us.
10 Pounds - Very Light
15 Pounds - Light
20 Pounds - Medium
25 Pounds - Heavy
30 Pounds - Very Heavy
10 Pounds - Very Light
15 Pounds - Light
20 Pounds - Medium
25 Pounds - Heavy
30 Pounds - Very Heavy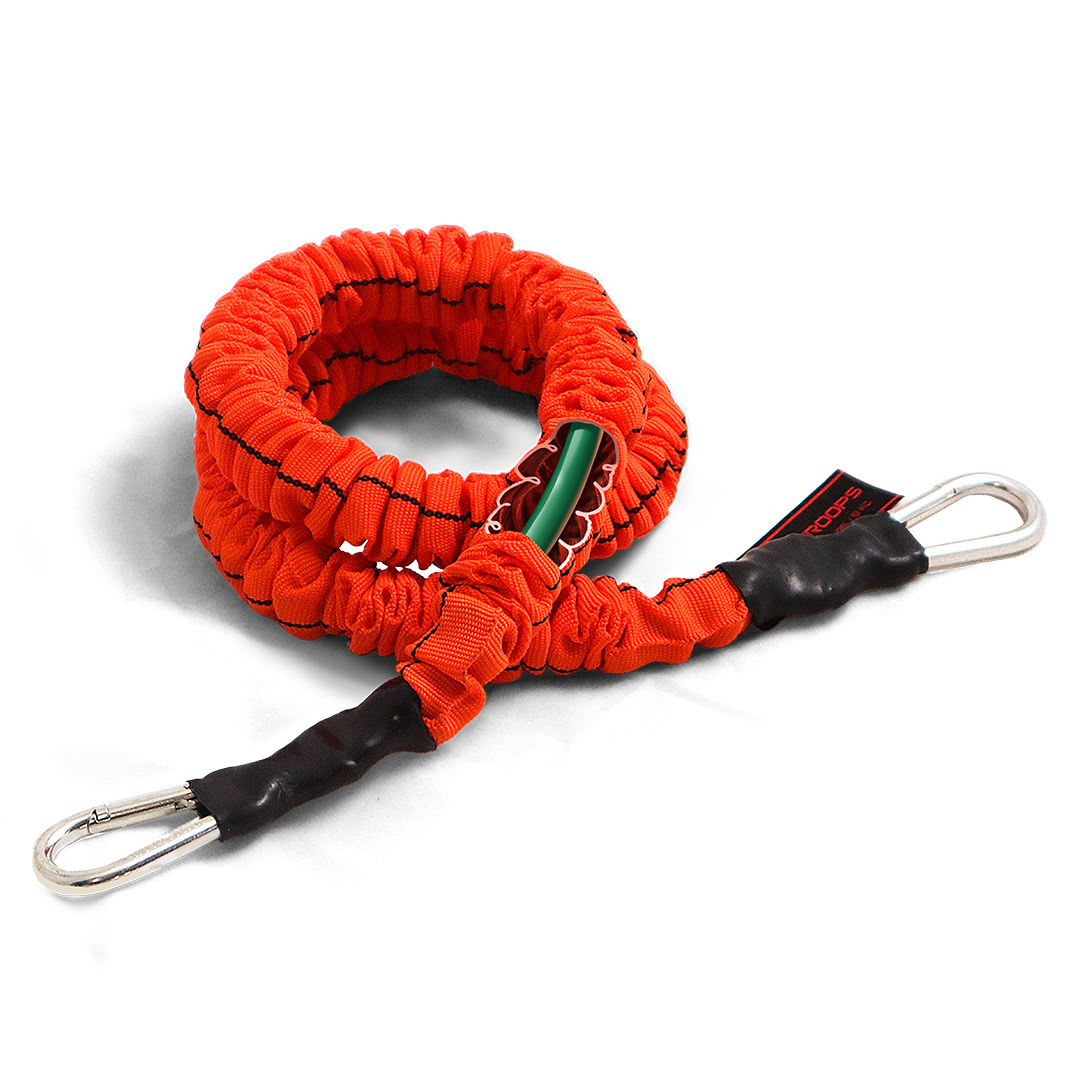 Resistance 90 is the future.
At the core of Stroops is our mission of safety and longevity in every product. We know that the market for resistance bands is dominated by what we call "naked tubing," bands that have no protection from external damage and present a danger to an athlete when snaps inevitably happen.
That's why Stroops invented the safety sleeve elastic resistance band, calling it the "Slastix" resistance band. Our design works to protect your band from external damage such as nicks, cuts, and tears, instances that weaken your band and shorten its life exponentially over time. Stretching an elastic with a cut in it very quickly makes the cut bigger.
In addition to that, hyper-extension is the most common culprit leading to weakened and broken bands. With a Resistance 90 Band, the safety sleeve protecting the tubing also prevents it from extending further than a safe distance, so you can get a good workout optimizing your band's resistance while keeping it going strong in future workouts.
Slastix also makes a difference in protecting you in the instance a band does actually break. Because of the sleeve, if the band snaps, you won't have to worry about being in the way of a band whipping back at you as it will simply contract safely inside the sleeve. You can workout with confidence and trust in your band with Slastix.
The Resistance 90 Band is an effective tool for basing your full-body workout around. The dual handle design is an easy solution for arm, chest and shoulder exercises, and you can continue your workout by adding resistance to your squats, lunges, and glute exercises.
The Resistance 90 Band is the core of the full Resistance 90, a portable resistance training system that can be set up anywhere there is a door. Your resistance band works well with our Spine Strap or foam door anchor, but the hook on the end works with any anchor point, or you can use it freestyle while on the go.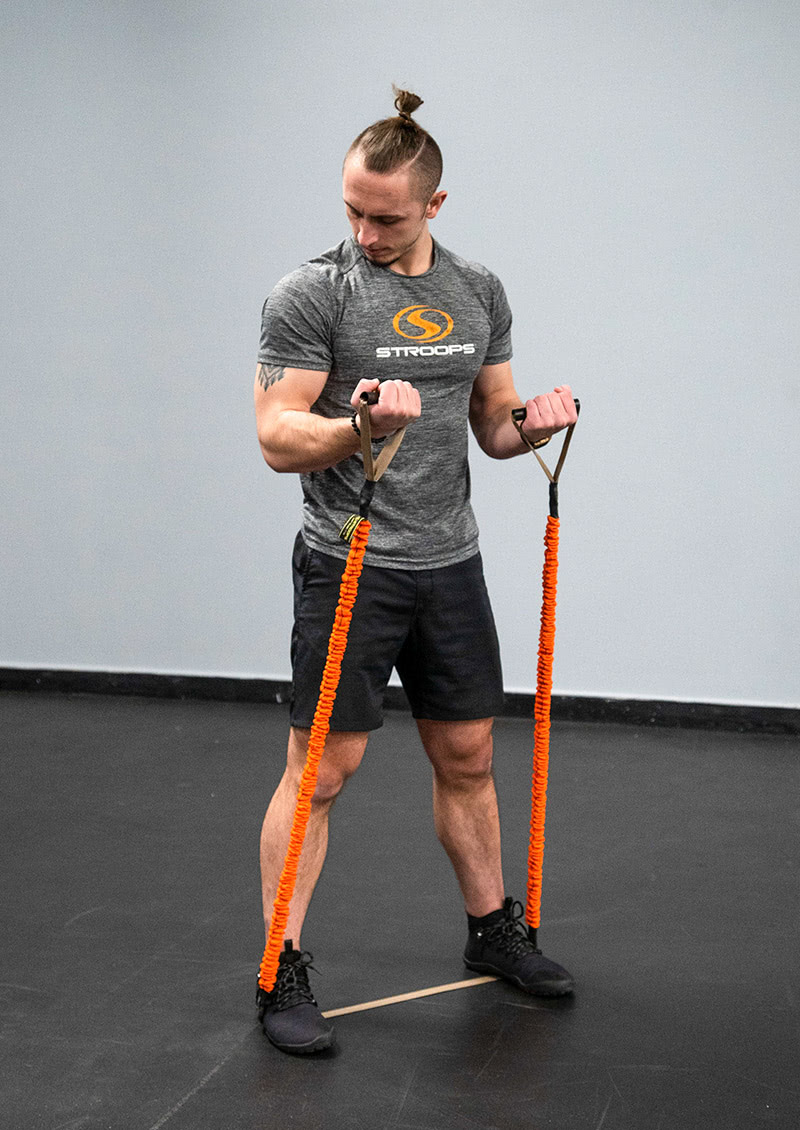 Looking for training ideas?
Our free Training Room will guide you on your fitness journey with hundreds of videos, from specific exercises to full workouts, led by professional Stroops personal trainers.