Stroops Ultimate Home Resistance Band Workout Roundup
Hey, fitfam!
Here at Stroops headquarters, we're huge fans of boutique fitness classes, gyms and studios, but what if you want or need to get a workout in from home? We think our resistance bands are the perfect way to get a great home workout without having to invest in costly, space hogging equipment. Today we've rounded up some of our favorite products, workouts and moves so you can exercise at home. Keep reading and click through to explore the Stroops Ultimate Home Resistance Band Workout Roundup!
Stroops Resistance Band Home Workout Products
First, the products. Stroops has created a series of products you can mix and match for any level of fitness or space to get a good workout at home with our resistance bands. We're going to give you a quick overview of some of these products if they're new to you, and then ways to use them no matter where you happen to be.
Want a quick overview of all these products?  Watch this video: Stroops Home Gym Essentials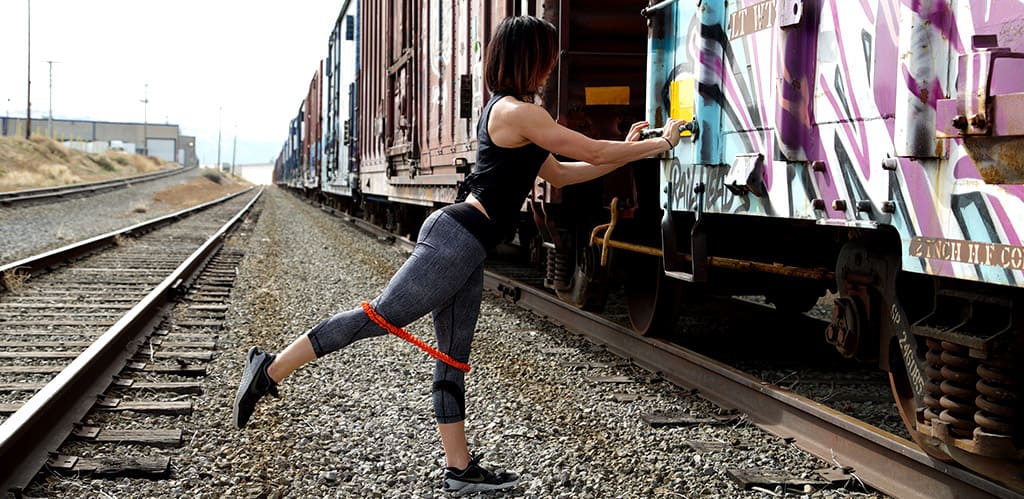 Loop
The Stroops Slastix Loop is our mini band, perfect to do a variety of moves like squats, clamshells, or lateral walks. We offer a Deluxe version that has padded sections and straps that secure around your legs to keep it in place, or the standard Loop, which is just a no-frills circular band.
Check out: Our Best Moves for Glutes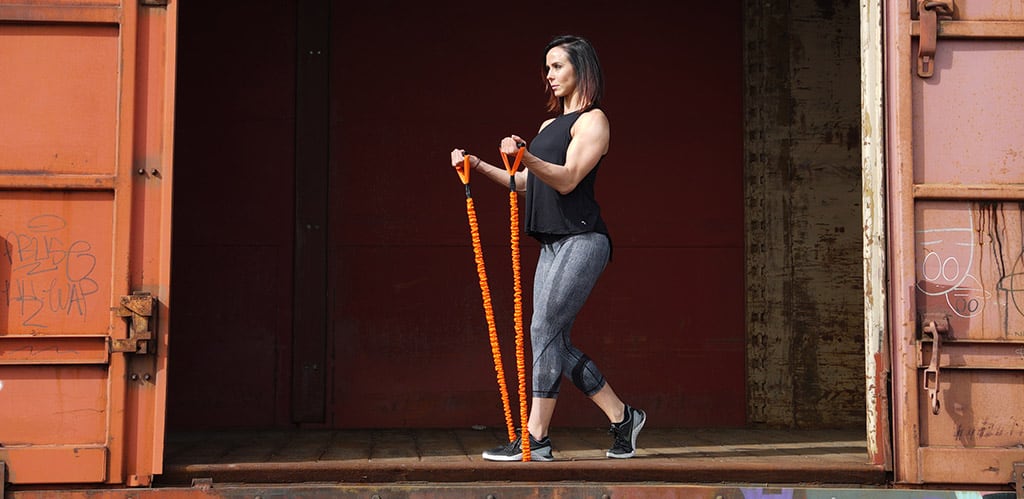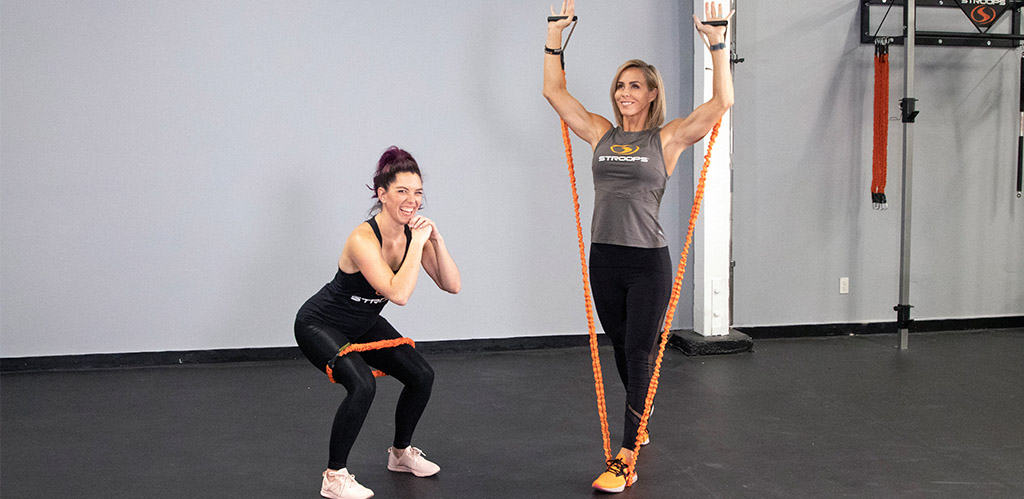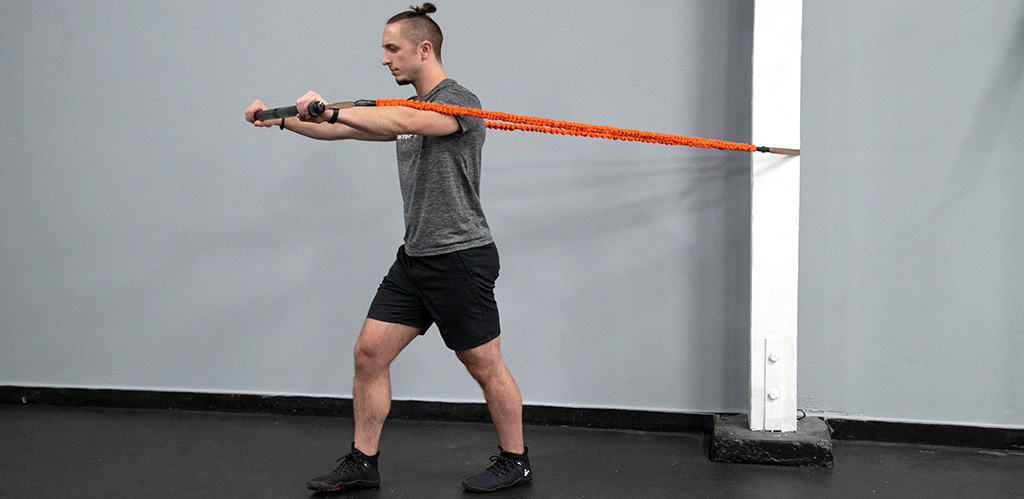 VITL Kit
Our VITL Kit is one of our favorite full body home workout resistance band solutions. It comes with clip end Slastix resistance bands and attachments so you can do a variety of workouts and moves wherever you are. Add the Foot Straps to do glute kickbacks or resisted bicycle crunches. Swap in the Textured Grip Handles to do curls, flies, raises or pulldowns. Clip on the Universal Swivel Belt to do skaters, resisted side shuffles, or squat jumps. Also included are cloth anchors to clip your Slastix to, so you can wrap those around a sturdy post or railing around your home to leverage the included resistance bands from.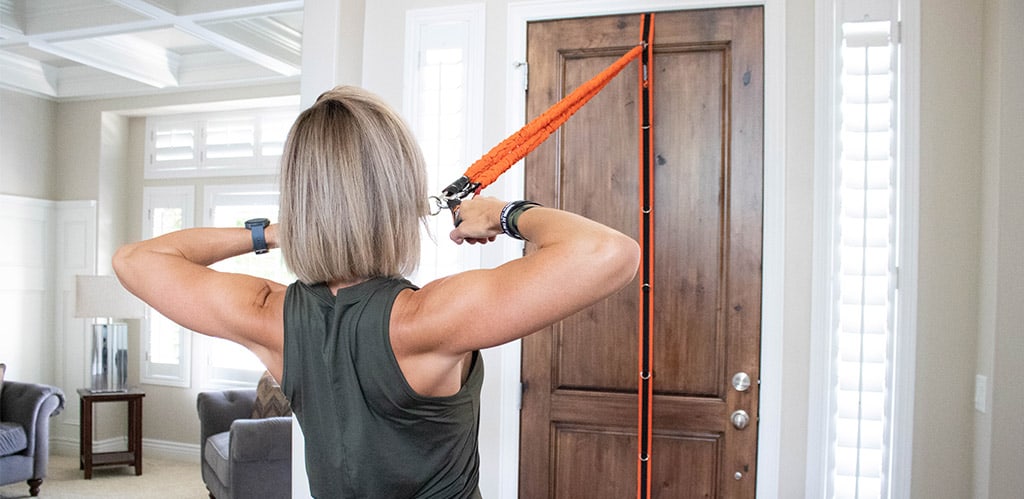 (New to Stroops and curious as to why all our resistance bands have a fabric outside? In a nutshell: the fabric sleeve keeps you safe! The safety sleeve elastic, or Slastix, prevents the resistance band from breaking and injuring the user. If you want to read more about that, check out our article here: Why Sleeved Resistance Bands)
We hope this roundup helps you find some new product solutions and workout ideas so you can exercise at home with just some resistance bands. Happy Training!