What makes the best resistance bands? We at Stroops have strong feelings about what makes the best resistance bands, since it's the heart and soul of what we do. The company has dedicated over twenty years to creating, innovating and iterating to create the best resistance bands around for use in fitness or rehab. So let's dive in and discuss more what we believe goes into creating the best resistance band.
Benefits of resistance bands
Before we get into what makes the best resistance bands, let's quickly cover why use resistance bands in the first place.
Importance of resistance training
Resistance bands or tubes are an effective tool to use for resistance training. Resistance training just refers to training against resistance like free weights or resistance bands to build strength. It's important for all kinds of people to include resistance training into their fitness regimes to help build muscle, strength, endurance, and general fitness. Being stronger and more fit helps you navigate everyday life. For example, whether you're bending down to pick up a child, bringing a load of groceries into the house, or you're an elite athlete training for their next event, resistance training will benefit you long term. Resistance training as part of a healthy lifestyle should help improve mobility and functionality for anything life throws at you.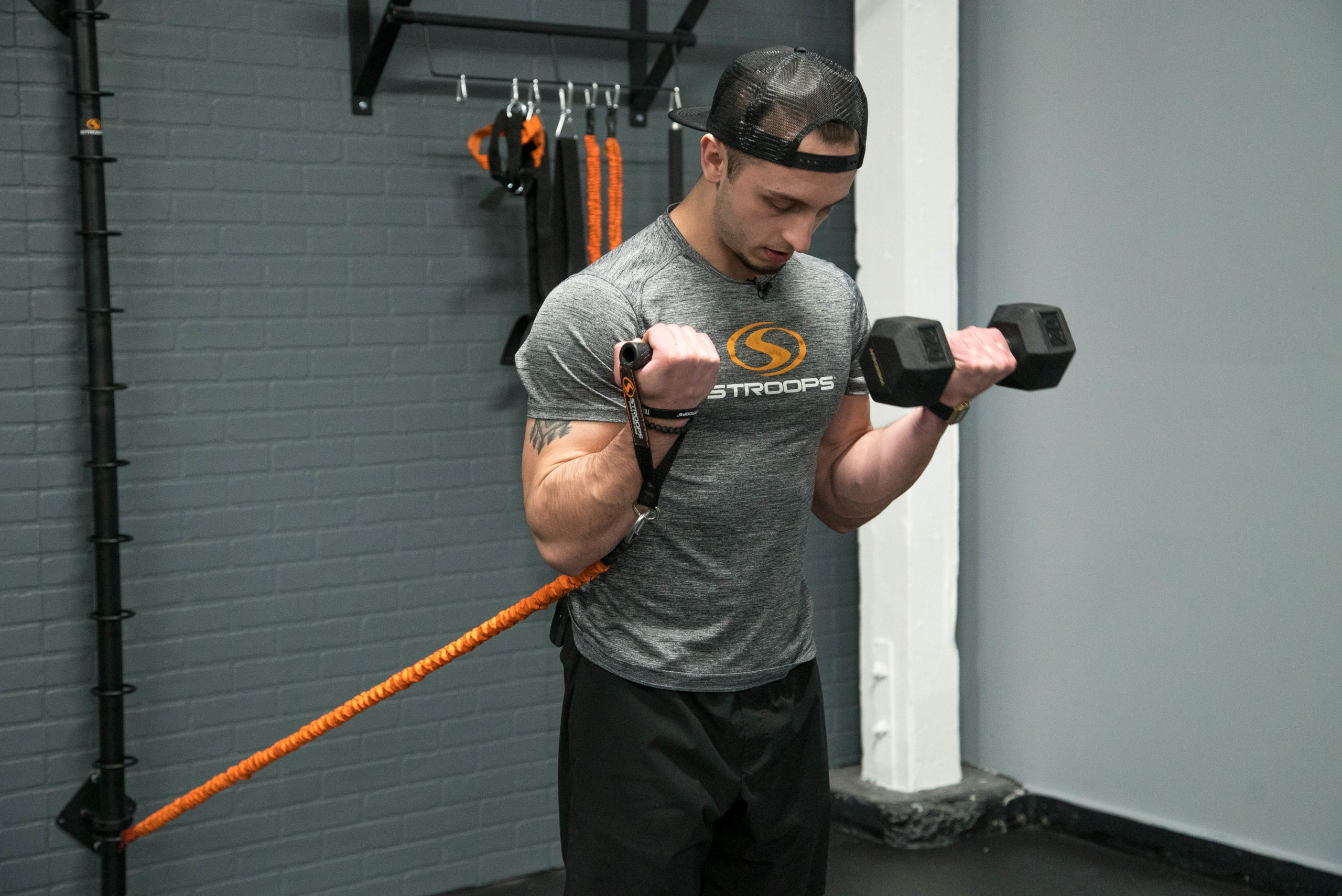 Advantages of using resistance bands
That said, we think there are many advantages to using resistance bands to train versus using free weights like dumbbells, barbells or kettlebells. Resistance bands are an easy way to train at home or on the go. They're super versatile, cost effective, easy to store and don't require a huge footprint to use. They're ideal for everyone from fitness newbies to enthusiasts, and perfect for rehab or elderly clients.
There's a lower barrier to entry to using resistance bands versus trying to learn how to use a barbell or cable machine for the first time. If you're new to fitness or gyms, resistance bands can be a great tool for entry level fitness that scales with your needs and skills.
Summary of Resistance Bands
Resistance bands are:
Portable
Versatile
Easy to store
Easy to use
Cost effective
Hopefully now you're excited about all the reasons we think  training with resistance bands is a no-brainer, now onto what we think makes the best resistance bands.
Safety
First of all, we at Stroops consider safety to be paramount to having the best resistance band. Think of your traditional "naked" resistance bands and tubes like driving a car without airbags or seat belts, or riding a bike without a helmet. Stroops' solution meant innovating what we call the "safety sleeve elastic" or "Slastix" resistance band. All our bands come enclosed in a safety sleeve that keeps the interior band from being overstretched, and keeps the band from breaking and causing an accident or injury. This does two things; first and foremost, it makes it safer to use. Secondly, it lengthens the life of the resistance band.
Other safety considerations
There's also other benefits to having the resistance band enclosed in a fabric sleeve. For instance, people who have latex allergies can use our bands without any problem. The fabric sleeve is also less likely to snag body hair. The sleeve also protects the interior band from regular use and abrasion from being stood on, or wrapped around something to anchor it.
(Want to watch our safety sleeve elastic at work? Check out this video on Youtube ! Watch us break traditional "naked" resistance bands and watch our bands handle the same weight like a champ and just keep kicking.)
Safety Recap
To quickly recap, the best resistance band should protect users:
From breakage
Those with latex allergies who can't use "naked" tubing and bands
Won't snag hair
Abrasion or nicks and cuts from use and abuse
Quality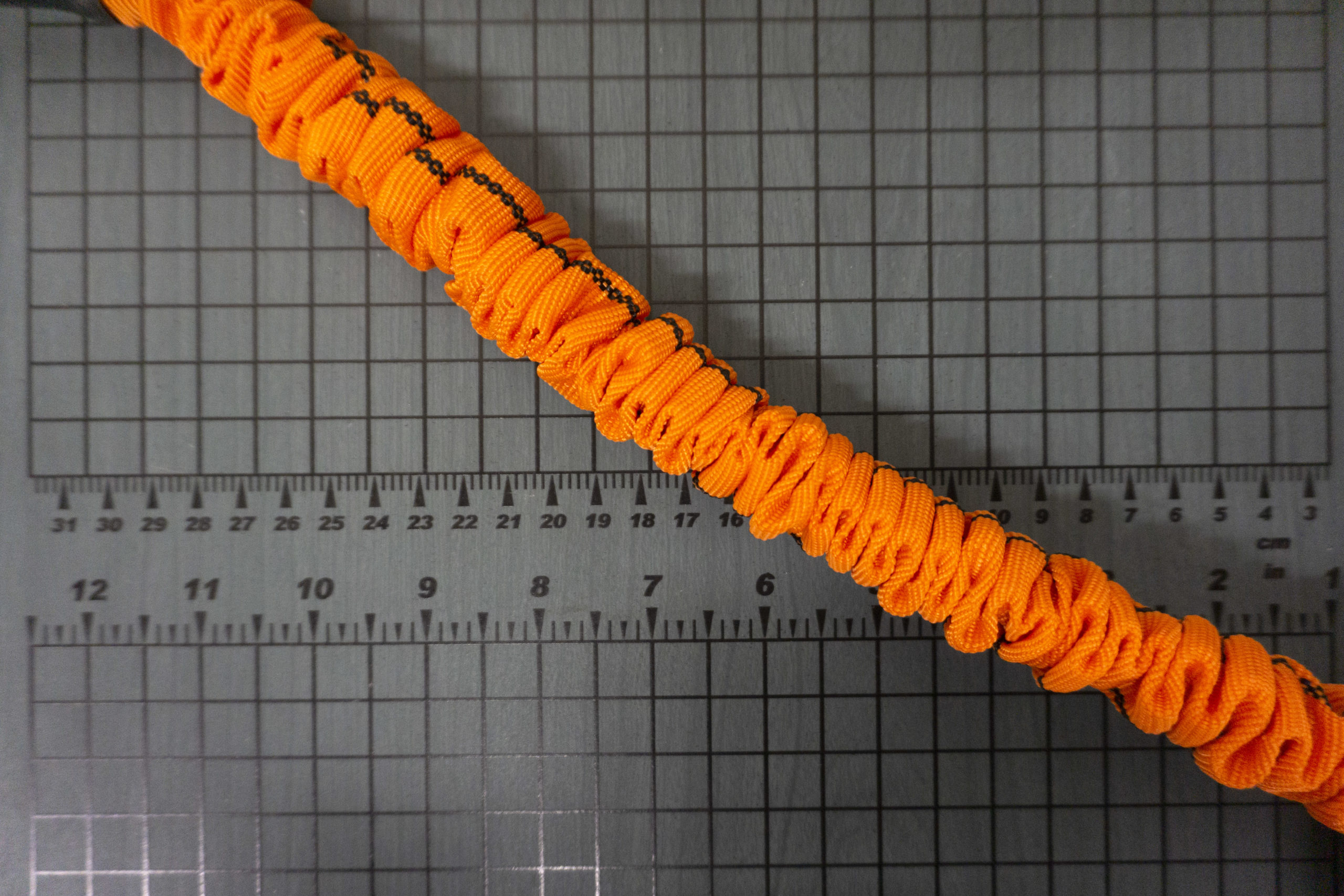 In addition to the fabric sleeve on the exterior of all our Slastix bands, the resistance tubing inside the band is another important component to consider. We wanted the best resistance bands and so we sought out the best interior tubing for fitness.
All the pieces matter
But there's more to our resistance bands than just the interior stretchy guts of the band. We also took the time to source quality hardware, parts, and components so that our bands would last through use and abuse. Some parts we had created and patented ourselves when we couldn't find the perfect part. All the pieces that make up our products were hand selected or created especially for us to ensure a long life and comfortable use. Every single part of a Stroops resistance band is tested to ensure that it will last through robust use and still provide you a quality experience.
Made in USA
Last but not least, most of our products are built, assembled and created in our headquarters in beautiful Utah. Our attention to detail and hand craftsmanship is part of what sets us apart. So much equipment is built cheaply overseas with low cost, not quality, being its main selling point.
Versatility
There's no such thing as "one size fits all" in fitness. In response, we ended up creating a versatile array of resistance bands and attachments for you to get the most out of our products. Since the end use determines your need, we've got something for everyone. We have variations in handles, resistance weights, clip ends, fabric ends, and more. You should be able to find a product that fits your particular needs.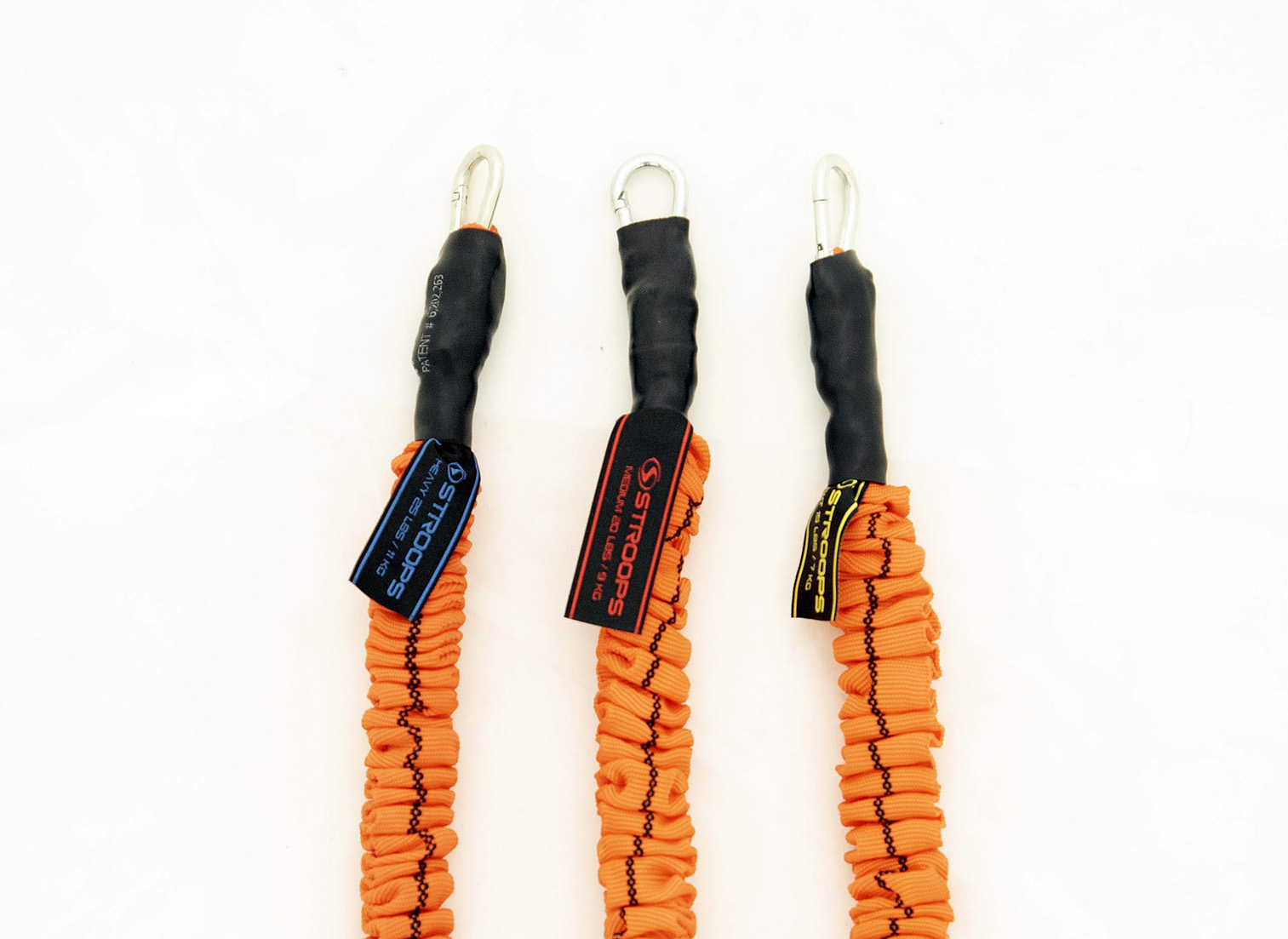 Different resistance weights
For instance, take our Toner resistance band. We have five different resistance weights on hand so you can take your pick of the band or bands that are perfect for your needs. We sell these individually or in packs of three or five different weights so you can grab the right band for what you're trying to accomplish. Say you're doing a bicep curl; you may want a heavier resistance weight than you might need to do something like a lateral raise. Resistance bands make it easy to rotate between these various weights in an inexpensive, cost effective, easy to store way.
Different band setups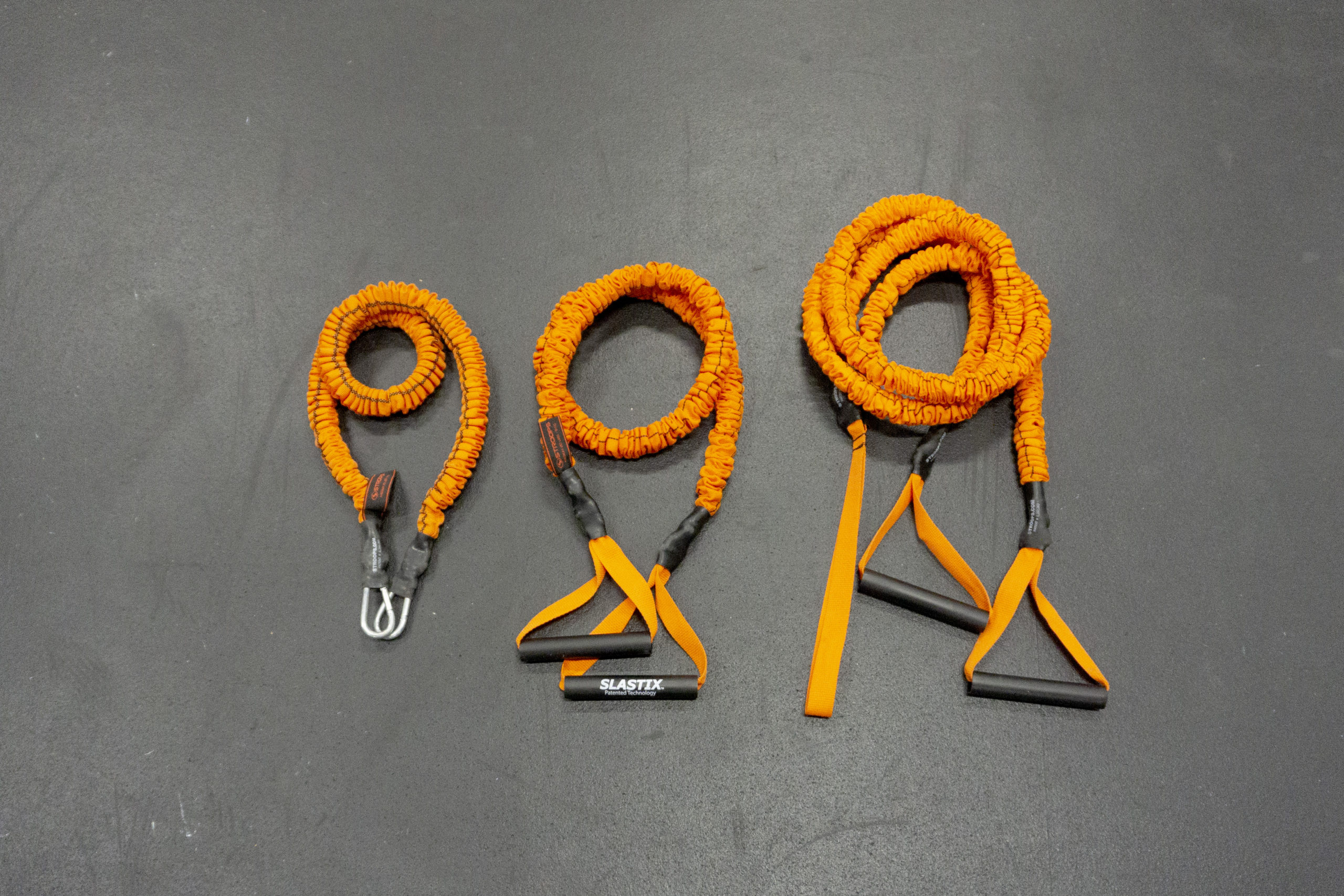 But what if you want a resistance band that doesn't already have handles attached to it? Since Stroops has created a whole variety of versatile bands and attachments you could instead use our extra-versatile Slastix bands. Slastix have clip ends so you can swap out the attachment you need. Add a Foot Strap to do booty kickbacks, swap in a handle to do pulls or rows, or clip on a belt to do resisted skaters or assisted lunges. No other fitness tool allows you to do so much, and then packs away. Our Slastix is available in nine different resistance weights and eight different lengths so you can find the perfect solution for you.
Innovation
The last thing we want to add to the conversation about the best resistance bands is innovation. The owner of the company saw the untapped potential and possibility for fitness applications with resistance bands and created Stroops to set out to make the best ones. Our innovations, like the safety sleeve, allow us to create fresh fitness products that wouldn't be possible with regular "naked" elastic products.
Stroops Product Innovations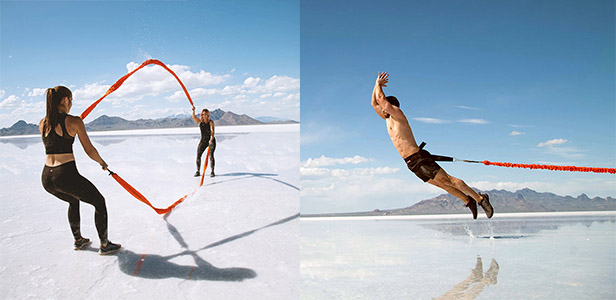 Product innovations: Son of the Beast
For instance, our Son of the Beast and Beast ropes can be used as a traditional battle rope, for killer full body slamming and swinging workouts. It's a battle rope like you've never used before, with comfortable looped handles at both ends, so you can do partner exercises, or attach the ends to a secure anchor point to get to work. They're light enough to throw into a duffle bag, making them easy to bring with you, so you can use them for a park workout or bootcamp in your backyard. But because they're a heavyweight elastic product enclosed in a safety sleeve, you can also use them with our Power Pull Belt from the Son of the Beast Pro kit and do resisted running, agility and footwork drills without worrying that the band is going to snap and cause an injury.
Product innovations: Striker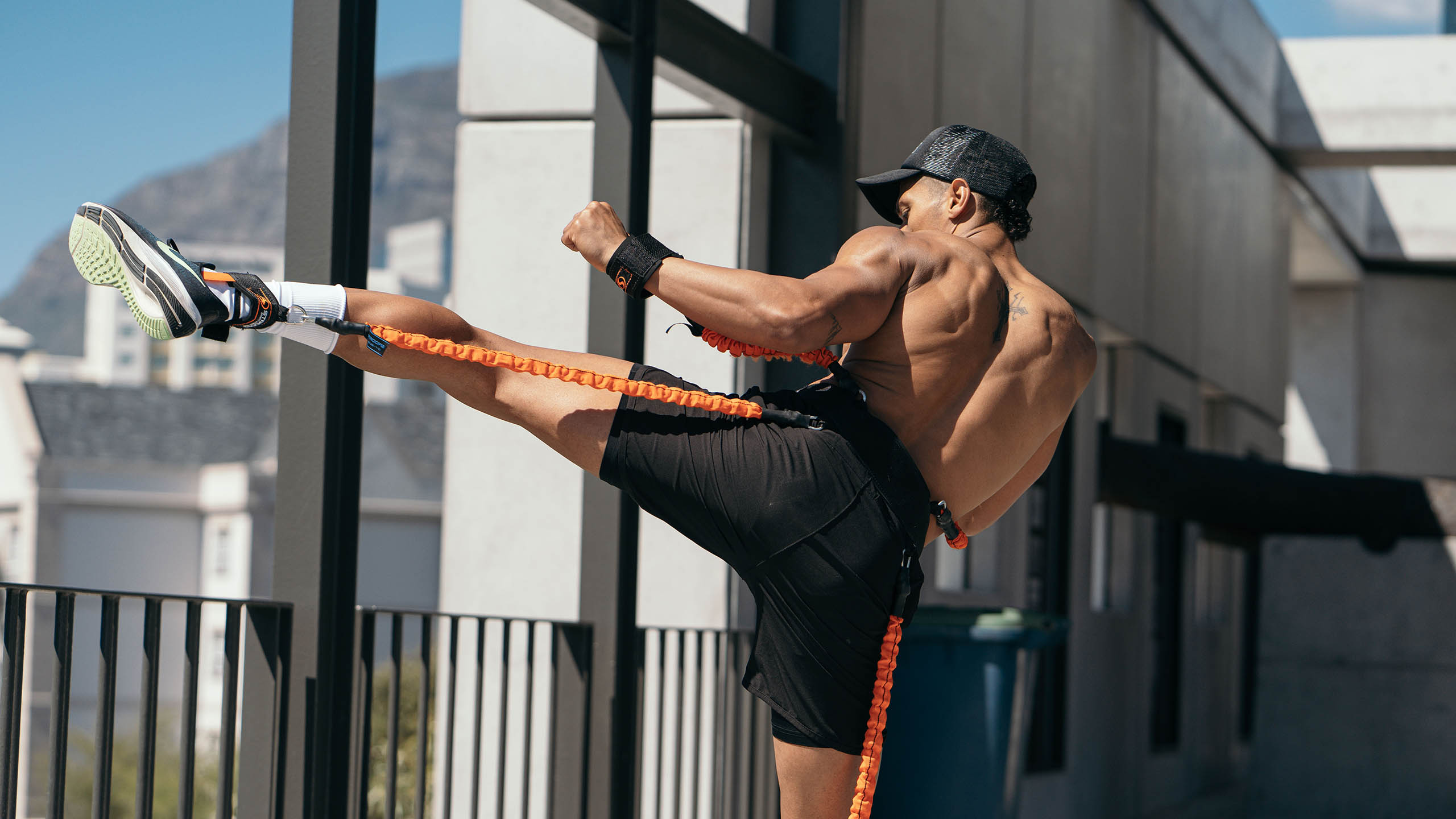 To take another example, our Striker is one of the only ways we've ever seen to add resistance to a training regime for MMA and fighters. It's a full body resistance suit complete with punch cuffs, a padded belt to connect it all and foot straps. We innovated a product you can't get anywhere else for a fitness niche neglected by other fitness companies.
Product innovations: Resistance 90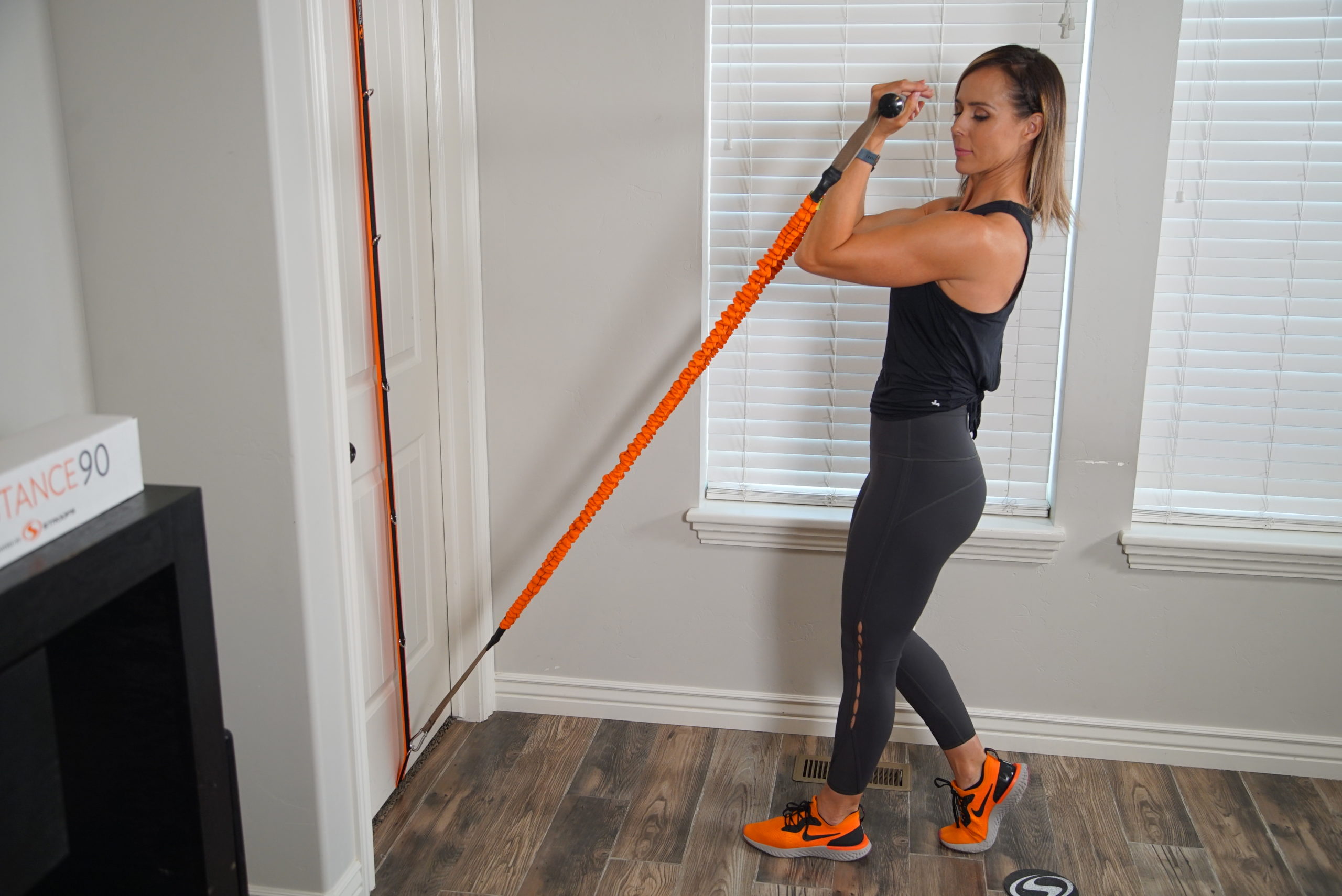 For another example, our Resistance 90 kit is a series of innovations. Its a one of a kind workout option that you can take practically anywhere. First, it comes with a collapsible plastic bar – perfect to use with the accompanying resistance band to mimic barbell movements. It's great for when you don't have the space for a barbell at home, if you're traveling and want to keep up on your routine, or you just like to workout  when and where you feel like it. This bar twists in half and with a locking pin that secures in the middle. When it's collapsed, you can throw it in your luggage to travel without alarming airport security. Then, the band itself has a fabric center portion you can wrap around something to anchor it and a sewn in carabiner clip you can attach to something. That gives you several innovative options to use the band alone or with the bar to workout anywhere.
Stroops prides itself on constantly innovating new ways to use resistance bands and solve real world problems. We want to make the best, coolest, most fun and effective fitness tools on the market.
Product roundup:
Now that we've talked about all the things that Stroops thinks goes into making the best resistance bands, here's a quick roundup of some of the resistance band products we've created to help you find the band or bands that will fit your training style and space.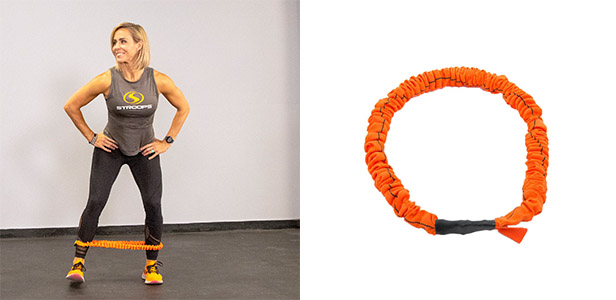 Best for: hips, booty, warm ups, lower body agility drills. 
Classic round resistance band. Comes in a range of resistance weights, like all our bands, as well as a Deluxe version, that has added padded sections and buckle straps to keep the band in place while doing moves.
VITL: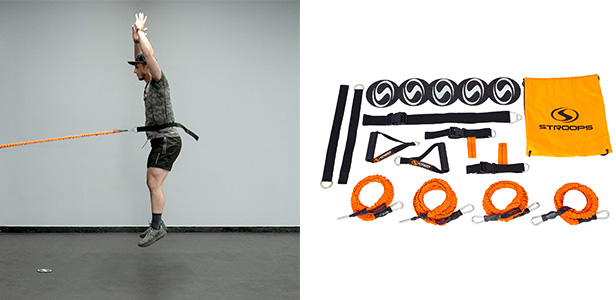 Best for: The novelty seeker. 
You don't want a one-size fits all band. The VITL kit comes with enough resistance bands and attachments to create a mix and match fitness regime to keep you on your toes. It stuffs into its own carry bag, so it's perfect for travel, parks, or home use and versatile enough to keep everyone from beginners to group fitness or personal training clients busy. It's the perfect workout grab bag you can take with you anywhere.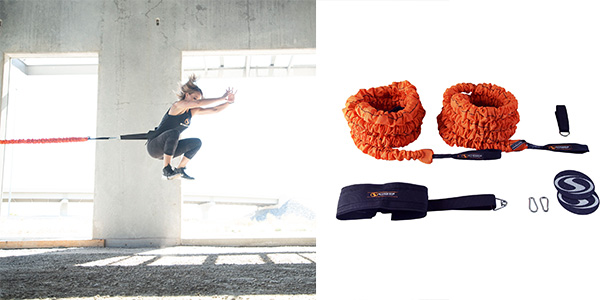 Best for: Athletes who don't think resistance bands are challenging enough. 
Run, jump or slam – the Son of the Beast and Beast ropes are perfect for agility or speed drills, endurance arm workouts, and most of all, it's a tool unlike anything else on the market, plus it's just fun to use. You'll get a killer workout in, you'll be smoked and sweaty afterwards, but you'll like it, we swear. Coaches and trainers love these for providing a fun, challenging workout to clients and teams alike.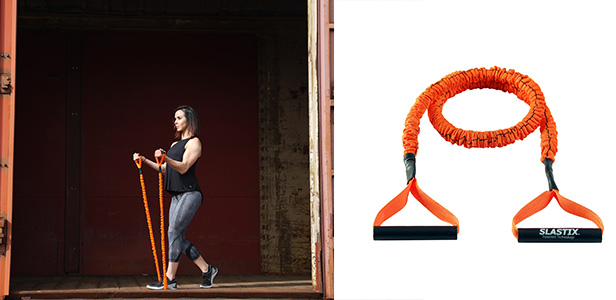 Best for: General use and all around fitness.
Great for everything from group fitness classes, home workouts, or beginners but with enough resistance weights to satisfy even the most swole among us. This is the classic people think of when they think "resistance band." Pair it with a Foam Door Anchor at home to do more moves, or for an inexpensive, travel fitness kit.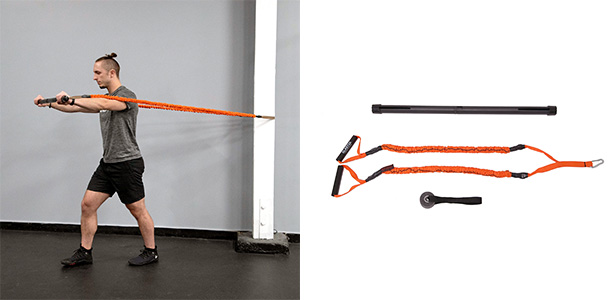 Best for: Travel or Barbell Movements
The Resistance 90 Kit is another super versatile, well designed kit that goes where you need it to go. It comes with a band that's similar to our Toner, but has a couple differentiating features. First, the band itself has a fabric center portion with a clip. This allows you to stand on it to do moves, or wrap it around an object to get different leverage points.  That gives you a few different ways to utilize the band itself. Then, it comes with a bar, which collapses in the center. This makes it small enough to tuck into a suitcase or duffle bag for travel, and easy to bring with you on the go. This bar and resistance band combo allow you to mimic barbell movements like chest presses, rows, overhead presses, and more. This allows you to get a great training session with minimal space or equipment required.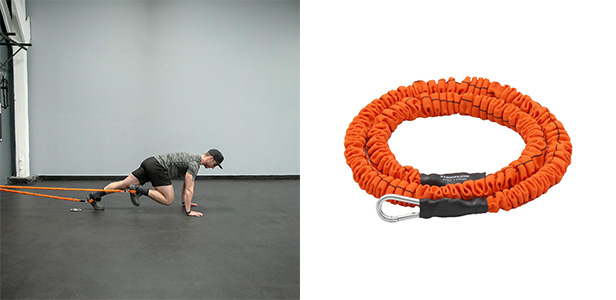 Best for: Versatility. 
The clip ends allow you to add on your choice of foot strap, handle, bar or belt so you can do any kind of full body or accessory movement you could wish. The variety of length and weight options allow you to customize your resistance band to your super specific needs. Our site carries everything from 12 inches to 20 feet, and weights from very light (roughly ten pounds of resistance) to 150 pounds of resistance.
Summary
Stroops prides itself on carefully innovating and hand crafting the best resistance bands so we can solve real world problems and make it easier for everyone, everywhere to find a fitness solution for their needs. We hope this helps you discover the best resistance bands for you! Happy training!